DISCOVER OUR BEST SELLER
The Reversible Dog Harness
With Sailor Bows + Bow Ties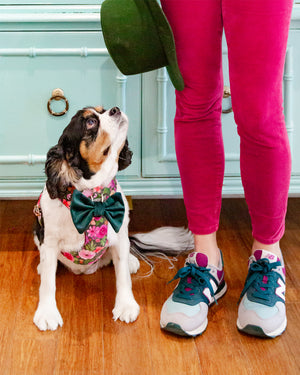 One Harness, Unlimited Looks
Style Your Fur Baby
The Wag & Wonder Signature Design
What is it?
The Wag & Wonder Signature Design gives your pup the option to wear a bow or bow tie on the collar OR the harness interchangeably. Pretty simple, right! You can attach the same bow or bow tie the collar and then move it to the harness depending on your style needs for the day. Strutting your stuff on the town…put the bow tie on the harness. Hosting a party at home, put it on the collar.
How does it work?
A secure band in the center allows the bow/bow tie to keep its shape while hook & loop tabs open and close for easy attachment to the body of the collar or the specially placed D ring on the chest of the harness.
Why do I need it?
• You want your pup to look as good as you do...or better.
• A dog needs options.
• Our harnesses are reversible. One piece, double the looks.
• Our colors and prints were selected to coordinate in countless ways giving you the biggest bang for your buck.
• Our bows and bow ties can be worn on the collar OR the harness, allowing you to create endless looks showcasing your dog's
unique personality.
• Every purchase you make helps an animal in need AND supports artisans being paid a fair wage.

IMAGINE
All of the looks you can create for your pup with one reversible harness and limiteless options of sailor bows & bow ties that can be interchanged in no time at all.
FIND YOUR FAVORITE LOOK
How do I find the right size for my dog?
Use the guide above and follow these tips to take measurements:
• Always use the Size chart linked above the size selection on your favorite harness.
• Measure using a soft tape. If you don't have one available, use a string cut to fit and then measure that.
• They say no two things are alike but we say measure twice and order once.
• When measuring the neck, take measurement at the base/widest part of the low neck and make sure to pull the tape snug, but not too tight.
• Allow enough space for two fingers to fit between the collar and your friend's neck.
• If the dog is in between neck sizes, size down for narrow chest breeds like Greyhounds.
• The harness must also fit over your dog's head, so take this into account with the measurement.
• The chest circumference should be taken around the widest part, just behind the front legs.
• And please remember, always use the Size chart linked above the size selection on your favorite harness.
Still not sure? Send us a message and we'd be happy to help!

Gorgeous Dogwear for the Stylish Dog
Let customers speak for us
Hi! I'm Karissa.
And this is my baby, Henry. We are based in North Dakota (uhf dah, I know!) and all of our products are made by artisans being paid a fair wage. I am so proud of this business that my sweet pups and my love for fashion have inspired me to create.
Your purchase supports not only our small business but all those involved in the creation and production of our products. Best of all, your purchase helps support animals in need.
I hope you have fun exploring our site and find something that you and your baby absolutely love.

♡ ♡ ♡
GIVING BACK
Dogs are seriously angels on Earth. It breaks my heart that so many of them aren't lucky enough to have found their furever homes. I'm the girl that cries at all the commercials…you know which ones I'm talking about, right? Having volunteered with various rescue groups over the years as a foster mom and board member, I have seen first-hand the great need out there to help these animals. Because it isn't realistic to take them all in myself, I have to continue to find other ways to help. I am very proud to say that Wag & Wonder donates a portion of every purchase to help animals in need across the USA. A huge thank you goes out to you for supporting us in that mission!

Have an organization that you think is deserving? Send me an email at wags@wagandwonder.com anytime.